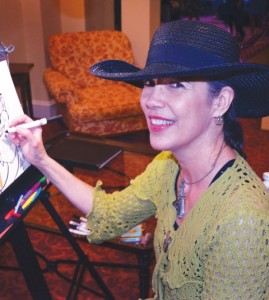 Kyle Edgell in the Press:
– Valley Business Front Magazine, November 2015, Issue 86, "A good, healthy laugh" on page 34.
A sketchy business –
A Note from our Publisher: One of my most memorable business development stories was the time I brought Kyle Edgell with me to New York City as part of our entertainment for our most valuable clients and top prospects. We had the top floor suite of the New York Hilton, overlooking Central Park; and Kyle's job was to draw caricatures of C-level and top executives of global corporations we were courting and appreciating. Everything came together perfectly, but most notable, was Kyle's ability to connect with her audience, even above and beyond all the food and drink and music and our private cruise around the harbor.
If you've attended any of the festivals or nonprofit events in our community over the years, chances are great you've encountered Kyle, along with her hat and sketchpad. Meet her again, here, on Page 34.
Kyle Edgell is featured in the New Member Spotlight of the AATH Humor-Voice Newsletter on page 15.
– Die Laughing: Light Hearted Views of a Grave Situation, Written by Steve Mickle and Illustrated by Kyle Edgell, Published by Robert Reed Publishers, June 2009.
Check it out here.
.