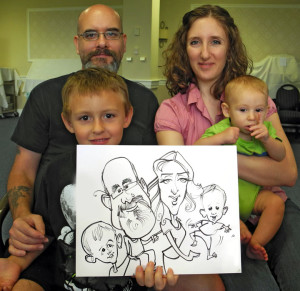 Caricature is a spectator sport where the greatest value is in the laughter and positive social interaction it facilitates.
Drawn in 2 minutes (Black and White) or 7 minutes (Color) Caricatures – while the artist is seated or strolling. This is entertainment not only for the art it delivers but also positive social connection opportunity it offers for all engaged subject and spectators alike.  Caricatures offer an improvisational humorous performance where the artist acts as a facilitator and mediator. The spectators become the judge and jury for whether the result is true to life and an accurate depiction of not only the person's face – but their personality.  For the subject, long standing impressions they may have had about their features and how they value themselves, may be permanently changed in the minutes it takes to sketch a single face.
A humorous family portrait will make a forever impression. A comedic sketch, both art and performance will delight your employees or guests.
How do you think others perceive you?  How do we see ourselves? The surprise that happens when these questions are asked and answered with a caricature makes for lively entertainment for any gathering.